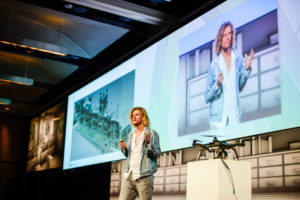 Autodesk University Australia is the region's largest conference for Autodesk software users, bringing together design and engineering professionals from around the region. The event includes an exhibition, plenary, breakout sessions with product experts and thought leaders, classes to learn tips and tricks for working more efficiently and forums on how technology is changing the way we create.
The objective was to re-energise the event from previous years and differentiate from competing events. Considering the event was held in the same location as the previous three years, our operations team had their work cut out for them!
We work closely with the global brand team to deliver a new experience for the attendees. We created a whole new aesthetic for the event, focusing on clean lines and muted tones for a more industrial feel that carried through the arrival area, meeting rooms and interactive exhibition. The big win for the client was the Autodesk Gallery, a collection of products made using Autodesk Software from around that world that was created as the centrepiece for the exhibition marketplace.
The client's response was overwhelmingly positive, claiming that it was the best AU yet.